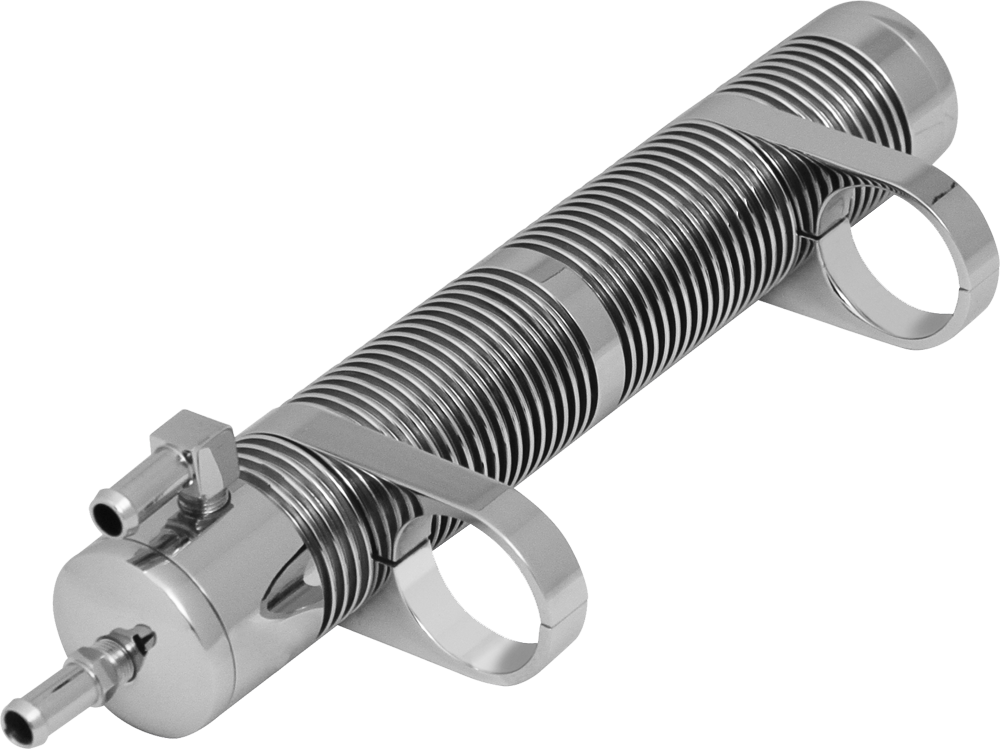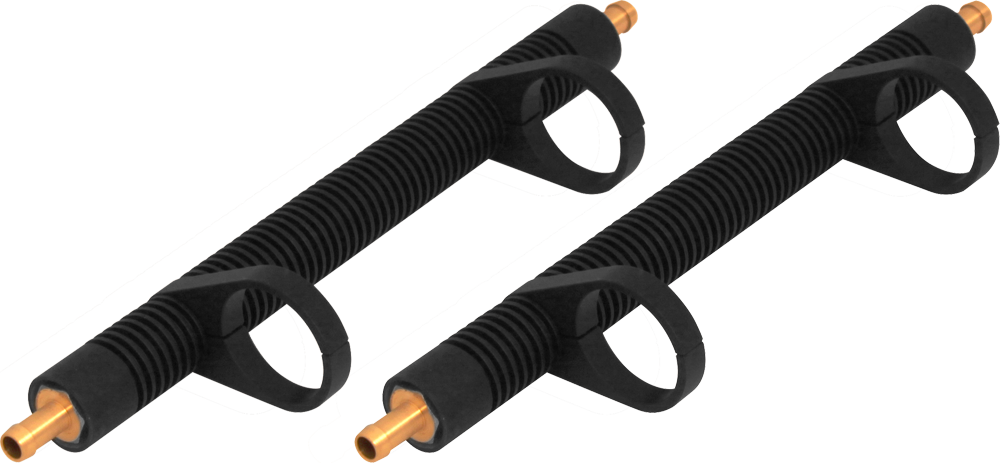 Custom Oil Coolers
The cylinder head of your high-performance motorcycle engine can highly benefit from a billet oil cooler enhancement. An efficient billet or custom V-twin oil cooler manufactured by our experts at Wimmer Custom Cycle will provide extra oil cooling where it is needed in running time for your Harley or V-Twin motorcycle. For improved power and performance in your custom bike, oil cooling will remove the extra heat from the engine. Our selection of billet oil cooler parts conducts oil cooling by providing additional oil capacity and a greater flow rate through the pump.
Billet Oil Cooler
Motorcycle owners can select what size and finish they'd like their billet oil cooler to match, for the aesthetics of their ride. At Wimmer Custom Cycle, we have the Single Tube Oil Cooler part and the Twin Tube Oil Cooler part, as well as accessories for each.
Single Tube Billet Oil Cooler
Customers can order our single oil cooler in show chrome, black with polished fins, all black or show polish. The single oil cooler is available in two sizes - the 8-inch or the 10-inch. Riders who are looking for an attractive and practical solution for maintaining both performance and engine life will love the features of our Single Tube Billet Oil Cooler.
The unique design of this performance part provides 60-inches of surface area to permit the deep grooved heat to sink, which dissipates maximum heat. The part comes with standard 3/8" ID oil line fittings - one 90-degree and one straight. The double pinch frame clamps of the single billet oil cooler allows the part to securely mount to the front down tube, with multiple sizes available. Keep your motorcycle running cool with the attractive appearance of the Single Tube Billet Oil Cooler.
V-twin Oil Coolers
Twin Tube Billet Oil Cooler
If you prefer the balanced appearance of an oil cooler on each downtube of your bike, then the Twin Tube Billet Oil Cooler is the best choice for you. This uniquely designed billet oil cooler part provides plenty of surface area to allow for adequate oil cooling. Just like the single tube oil cooler, the twin tube comes with different size clamps and is available in the four different shades. In the V-Twin racing engines, oil temperature remains a constant threat to engine safety. Our products add comfort and safety to keep your engine running cooler.
Harley Oil Coolers
The Harley V-twin oil coolers provide the perfect balance of performance and power. The engineering that we produce revolutionize the industry and adapt the way you ride. Our Harley oil coolers are customized and built to last. We work on a variety of Harley models to provide a custom fit, and pressure test the oil cooler, ensuring a huge cooling surface.
If you want greater flow characteristics, don't forget to opt for one of our oil cooler accessories or custom Harley air cleaner in Bucks County! Browse our selection today for quality performance parts oil coolers and accessories.